Brenda K. Starr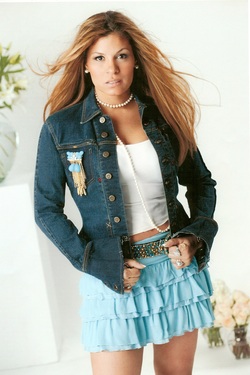 Pop and Latin music superstar, Brenda K Starr, was born and raised in New York City. Brenda had a passion and dream to be a singer from an early age, and was already singing by 8 years-old. When Brenda became 12 years-old, she had already auditioned for several TV commercials and theater. As the break-dance fever emerged out of New York City's projects, Brenda joined the Dynamic Dolls. "My dream was to sing. Since I couldn't do it in a studio, I used to do it in the stairs of th building where I lived, just to hear the acoustics." Although she also loved dancing, by that time Brenda's heart was set on singing.

At 14 years-old, Brenda met the legendary film star and recording artist, Harry Belafonte, on an audition for the musical, "Beat Street." Belafonte was captivated by her voice. Brenda landed a production deal and two songs on the film's soundtrack, a truly impressive start. In the midst of negotiating her first deal, she was approached by producer Arthur Baker, who offered a recording deal on the Atlantic Records distributed Mirage record label.

By the late 1980's, Brenda K. Starr was the undisputed queen of Dance music. Her hits included the Grammy Award-nominated and #1 pop ballad; "I Still Believe," and the club/dance smash, "What You See is What You Get." "I Still Believe" was later re-recorded and turned into a chart-topping hit, once more, by one of Brenda's former back-up singers-turned-international superstar, Mariah Carey. As a matter of fact, at the same time that Carey was working as a vocalist for her, Brenda was developing quite a name for herself in both the Pop and Salsa musical worlds. Mariah Carey paid homage to her, acknowledging Brenda as one of her mentors on the mega-selling video, "Mariah Carey: Around The World."

Brenda has also been internationally recognized as a leader in the Latin music explosion for many years, earning her the title, "La Diva de Salsa." Her first Spanish album release, Te Sigo Esperando, was certificated Gold by the RIAA. It was followed by four more Spanish albums, entitled No Lo Voy A Olvidar, Petalos de Fuego, the critically-acclaimed, Temptation, and Atrevete a Olvidarme, which fittingly translated to: "I Dare You to Forget Me." In 2002, the Temptation album garnered two Latin Billboard Awards: Hot Latin Track of the Year-Vocal Duo and Tropical /Salsa Airplay Track of the Year-Female. Standouts have included her collaborations with internationally acclaimed crooners like Victor Manuelle and Tito Nieves.

A Greatest Hits album was also released, featuring a selection of hits from Brenda's illustrious career. However, Brenda K. Starr's greatest hits have yet to be made! Brenda K. Starr is returning to both the Pop music scene that helped her to become the coveted, world-renowned artist she is, and Latin/Tropical music, which also dominates the music market today. Inspired to reign the charts once again, this Starr is ready to shine brighter than ever!
---