Anthony Santos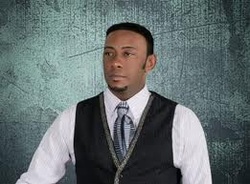 Antony Santos is a bachata musician from the Dominican Republic, renowned for his role in redefining the genre to include romantic music.

Santos entered onto the scene in the early 1990s, beginning his career as the guira player for fellow bachatero Luis Vargas, only to leave the group and maintain a very public feud with Vargas that would last until Vargas' career faded into obscurity. Santos became the first rural bachatero to reach a mainstream audience, with his hit "Voy pa'llá", shortly after Blas Durán had introduced the electric guitar into the genre. Santos' adoption of soft romantic lyrics was more socially accepted than the bawdy style common to bachata before him, and he shortly became the genre's leading artist, helping move bachata into the mainstream. Santos has helped define the sound of modern bachata, mainly through his use of a chorus pedal and the Yamaha APX series of guitars (with a Gibson Classic Humbucker mounted in the soundhole).

His hit songs include: "Voy Pa Lla", "Cuantos Dias Mas", "Vete y Alejate de Mi", "Un Muerto Vivo", "Por Mi Timidez", "Pegame Tu Vicio", "Corazon Culpable", "Pequeño Huracan" and "Muchos Cambios" among others

Santos is currently the best paid bachatero in the Dominican Republic.
---