Amarfis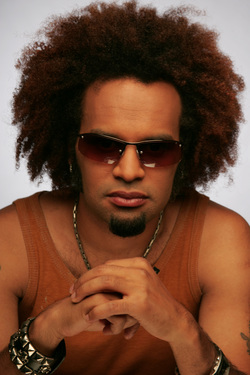 Amarfis Aquino, vocalist and leader of La Banda de Atakke, was born in Sabana Grande de Boya, Dominican Republic. From a young age, Amarfis could be found playing pots, pans, and bottles in the kitchen of his uncle, Viro Mejia.

A musician also, Viro set Amarfis on course to a life as a professional musician. Leaving his native island behind, Amarfis relocated to New York, where he would find his musical home.

He studied composition, arranging, and production at the City College of New York. Amarfis worked with a variety of tropical music groups in the city before his talent was discovered by Sonolux (Sony Music), which offered the artist an opportunity to record.

Amarfis y la Banda de Atakke was released in 1998, generating hits such as "Los Grilleros," which showed up on charts all over Latin America, the U.S., and Europe. His next albums -- Caeme Atras, La Revolucion del Mambo, and Chilin' -- exceeded all sales expectations, generating a number of hits. Amarfis y la Banda de Atakke built up a strong radio presence with a number of songs making it to Billboard's Latin Tropical Airplay charts in 2005.

Amarfis has since collaborated and performed with important artists like Los Huracanes del Norte, El Limite, and Juanes.

---