Alexis & Fido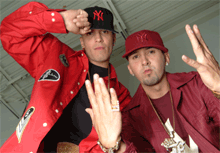 Though both Raul "Alexis" Ortiz and Joel "Fido" Martinez were active in the Puerto Rican reggaeton scene since they were teenagers, they didn't join forces until 2001 on the compilation Desafio.

There was room for only one track, and both wanted to be included, so together they made "El Nalgazo," which ended up doing well on Puerto Rican radio.

They decided to continue on as a duo, getting their name out to the public by contributing songs to various compilations and mixtapes, including the regional hit "El Tiburon" on Luny Tunes' Mas Flow, Vol. 2. Nicknamed Los Pitbulls for their tendency to bark while performing, Alexis & Fido released the aptly titled The Pitbulls in 2005.

The record was a success, hitting number four on the Top Latin Albums chart and even making it into the Billboard 200. The following year, Los Reyes del Perreo, a collection of nine of their biggest songs plus five new ones, came out.

---