Adassa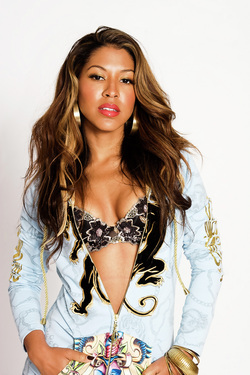 Reggaeton artist
Adassa
owes her multinational appeal in no small part to her upbringing. She was born in Miami, FL, to Colombian parents, but relocated shortly thereafter to St. Croix, Virgin
Islands
.
She was exposed from a young age to a wide array of musical styles and languages. Adassa began singing regularly in church, apprenticed by her mother, which whet her appetite for vocal training.
She soon pursued instruction in music theory and opera while simultaneously
exploring
interest in writing, publishing her poetry as early as age ten. She was offered a number of familial inroads to the music industry, including recording gospel records alongside her mother and joining groups organized by her promoter/producer brother.

Opportunity soon presented itself in Monterrey, Mexico, in professional show
bands
, which offered invaluable performance/showmanship training and practice. Soon thereafter, Adassa released her debut solo record, the self-produced Down South. Sold out of backpacks and
car
trunks, the record created enough buzz to gain the notice of underground label Hoodlum Records, with whom she released a self-titled follow-up project. Local radio and word-of-mouth success paved the road for the Miami-produced On the Floor, her first album to gain national distribution. Touring alongside big-name reggaeton artists soon followed.
Performing on the same bill with
Daddy Yankee
,
Ivy Queen
,
Don Omar
, and others brought
Adassa
to the nation's attention.
Kamasutra
, released in 2005 by Universal Latino, generated the hit song "De Tra," and introduced
Adassa
as a major player in the reggaeton genre.
---